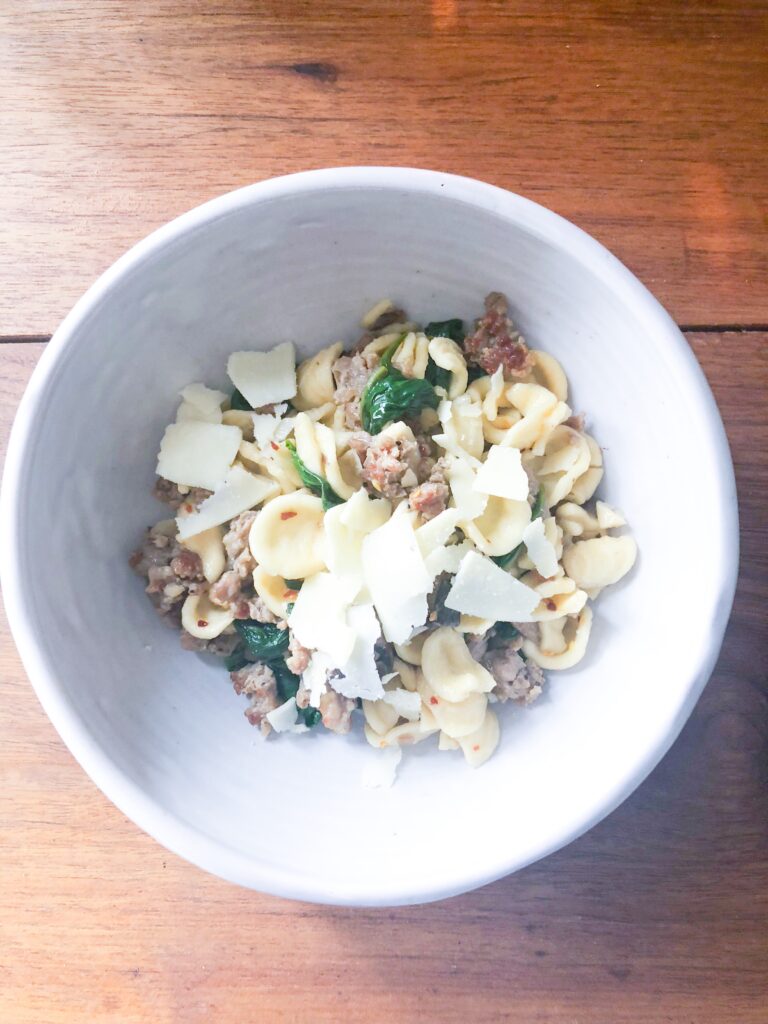 Pasta. Not the tomato kind, but the kind that has ingredients you can't pronounce. The kind that should be named something fancy & on a "specials" board at an Italian restaurant.
Pasta is something I crave a lot but I usually only pop open a jar of Rao's Arrabbiatta Sauce (which is amazing, btw). This week I've been wanting something more, so I started scrolling through recipes. I found recipes that I thought sounded amazing & steered away from the traditional pasta. Then I made my grocery list & headed out to Trader Joe's. A.) I didn't know what broccoli rabe was, I didn't get that. But you know what, I knew what spinach was & I got that! There were a few other ingredients I just didn't know, so I made up my own & came up with this delicious recipe.
M would definitely love this meal, I will have to make it for him. I'm also a little more inclined to make it instead of other pastas for a date night since I didn't add garlic!
Also, since I came up with this dish, does that mean I get to name it?
"No Broccoli Rabe" Pasta
Ingredients:
Orecchiette Pasta – I always make too much, so this is up to you 🙂
Italian Sausage w/casings removed – I picked up a pack of Italian sausage from Trader Joe's that had 5 links & I only used 2 for two servings, but you can definitely add more
Spinach – 4 cups
Chicken Broth – 1/4 cup
Baby Bella Mushrooms – 1 cup
Lemon
Red Pepper Flakes
Parmesan
Salt for tasting
Directions:
Boil pasta – this pasta usually takes 12 minutes then rinse with cold water.
While it's cooking, remove casings from sausage, add a teaspoon of olive oil and brown in dutch oven. Make sure to break it apart while it's cooking.
After the sausage is brown, add in mushrooms and allow to cook for 5 minutes.
Next, add the chicken broth & spinach and allow to heat up for a couple minutes.
Lastly, add your pasta to the dutch oven and stir. Add juice of 1 lemon, lemon zest, red pepper flakes, & a pinch of salt.
Let heat for a few minutes, then serve immediately with Parmesan on top & enjoy!!
If you decide to make this masterpiece, tag me in your photos on Instagram & let me know what you think! And if you liked this recipe, see my others, click here.